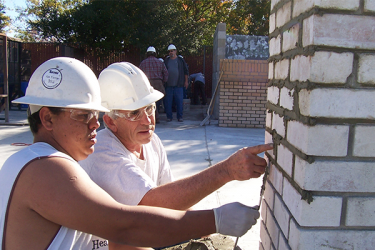 We are a part of your community
Members of the Santa Clara and San Benito Counties Building and Construction Trades Council not only work in your community, but they live there too.
As local workers, we pay taxes that stay within the community. Collectively, our more than 30,000 members pay millions of dollars in taxes to support area government and also make monetary contributions to help the needs of those less fortunate.
As a part of the community, our members are proud to shop in local stores, send their children to local schools and be involved with area organizations. They are the individuals who coach sports teams, attend local churches and serve on local government and other boards.
Our members also volunteer their time and skills to help those in need or deserving organizations. Time and again, building trades members are asked to donate their services and provide monetary support to worthy causes.
This is a small list of the many volunteer projects in which members of the Santa Clara & San Benito Counties BCTC partake:
• Battered Children, Fresno
• Big Brother Big Sisters of the Bay Area
• C. Thomas Foundation
• Christmas in April
• Church Cupola in Los Gatos
• Computer Recycling Center
• Constructing baseball dugouts and snack shacks for various sports leagues
• Dollars Against Diabetes
• Downtown S.J. Organizing Committee
• Labor Council Christmas Party
• Lanai-Cunningham Community A. Team
• Mountain View Chamber of Commerce
• U.S.O.
The Santa Clara and San Benito Counties Building and Construction Trades Council
is proud to represent the following Local Unions and District Councils:
 • Heat and Frost Insulators and Allied Workers 16 • Boilermakers 549 • Bricklayers & Allied Craftworkers 3 • Carpenters 405 • Carpet & Linoleum 12
• Cement Masons 400 • District Council 16 • Drywall / Lathers 9144 • Electricians 332 • Elevator Constructors 8 • Glaziers 1621 • Iron Workers 377
• Laborers 270 • Millmen 262 • Millwrights 102 • Operator Engineers 3 • Painters 507 • Plasterers 300 • Plumbers & Steam Fitters 393
• Roofers & Waterproofers 95 • Sheet Metal Workers 104 • Sign, Display 510 • Sprinkler Fitters 483 • Teamsters 287